Elegant tablecloth Jacquard Durance, Marat d'Avignon
Elegant tablecloth, square of 63x63 inches,
made in Provence in Jacquard woven Durance,
a magnificent collection of Marat d'Avignon®
. The framed pattern is available in
7 very soft colors
. Made of cotton (60%) and polyester, this table cover has
Dupont Teflon treatment
for better protection against stains.
This upscale item will be helpful for sublimating your tables of special occasions
...
Read more >>
Jacquard by Marat
Jacquard is a French weaving technique that combines multiple criteria to obtain reversible designs embedded in the linen. This is already a top quality for this item that combines the superlatives. When the jacquard meets the Provençal experience, it highlights even more sought-after motifs, worthy of ancient Indian fabrics. Marat d'Avignon revives these wonders by bringing a very jealous care to their confections. Durance is a refined, majestic collection, as the river that irrigates an immense fertile plain of northern Provence.
The table top is just dotted with spaced florets, in the middle of which are interspersed lots of points grouped by four, and barely visible. These are typically Provençal. The drop is decorated with multiple friezes of different thicknesses and patterns. There are two friezes of calissons and a large floral frieze. The subjects stand out in lighter color for the colored backgrounds, and slightly darker for the clear backgrounds. The colors are exquisitely soft, which highlights the encrustations of the fabric. A pure delight!
Your wedding tablecloths!
The white color of the Durance collection is particularly elegant: it is perfect for setting up reception tables, be it a wedding or a baptism, or perhaps a communion party. Wherever the white must symbolize purity, this square tablecloth is all indicated. The round format is also available to dress guest tables while keeping harmony. The jacquard relief will add nobility to the elegance of white. We highly recommend this article for all chic receptions. The matching napkins are also available as accessory.
A word on the coordinates
These are square cover (mat), table runner, and beautiful rectangular placemats. 
The Durance collection
will seduce you for sure.
Data sheet
Collection

Durance

Shape

Square

Width

63 inches

Length

63 inches

Color

Blue, Grey, Ecru, Yellow, White, Red, Dark grey

Shaping

Woven Jacquard

Composition

60% Cotton - 40% Polyester

Treatment

Dupont teflon-treated

Pattern

Framed
All our household linen is made with care in the South East of France with quality textile materials. In order to preserve all the qualities of your article, we recommend you to follow our maintenance advices. This will help you enjoy the features and properties of your house linen longer.
Some tips : to wash your laundry, we recommend Marseille soap, a natural and really effective product that the washerwomen (lavandieres) of Provence used formerly. In addition to being environmentally friendly and harmless to the skin and the environment, it cleans and removes stains perfectly without damaging fabric. You can also use white vinegar as a softener: it's natural too. Do not hesitate and follow the example of Provencal housewives, back to fundamentals: it's good for you, for your home, and for the planet!
For TEFLON treated or coated fabrics: we recommend to iron on the reverse side of the fabric to reactivate the properties of anti-stain treatment.

 Machine wash at 30° C

 Do not bleach

 No dry clean

 Do not use tumble dryer

 Low temperature ironing
Choose your tablecloth according to your table (shape and dimensions), how you use it (indoor or in the garden) and ... your preferences!
Which dimensions ?
Whatever the shape of your table, you may start by measuring length and width or diameter.
Once the dimensions known, make sure to add 15 to 35 cm (about 6 to 14 in) on each side for the fallout (30 to 70 cm in total, or 12 to 28 in).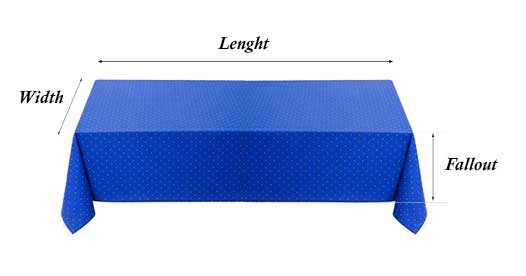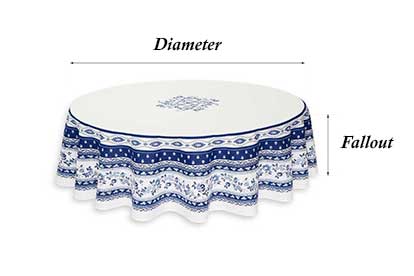 If you do not know the dimensions of the table (for a gift for example), you may count in number of guests: therefore, allow a minimum of 60 to 70 cm (23.6 to 27.6 in) between each guest and apply this simple rule:
- For a rectangular table, the length of the tablecloth should be 150 cm up to 4 persons + 50 cm each time you add 2 more guests (for 10 guests, the length of the tablecloth should be 150 + 3 x 50 = 300 cm)
- For a round table, the diameter of the tablecloth should be 150 cm up to 4 persons + 30-40 cm each time you add 2 more guests (for 8 guests, the diameter of the tablecloth should be 150 + 2 x 40 = 230 cm)
Is coating useful?
The coating facilitates daily use and spares machine washes by allowing to wipe stains off with a sponge; untreated tablecloths offer a softer touch; Teflon-treated tablecloths offer 2 advantages ... Your choice will depend essentially on 3 criteria:
- Outdoor use: If your tablecloth is mainly used outdoor, we recommend that you choose coated cotton;
- Frequency of use: for daily use, prefer the coating to simplify maintenance. Conversely, for occasional use (party, reception, etc.), we recommend a tablecloth without coating for printed cotton or treated with Teflon for jacquard woven cotton.
- Your personal feelings: If you want to find the touch of 100% cotton, go for untreated or Teflon treated tablecloths.
Printed cotton or jacquard woven: a matter of texture
Printed cotton tablecloths and 100% cotton jacquard woven tablecloths are mainly dedicated to the 'art de la table'. They can have an acrylic or Teflon coating to prevent stain permeation. Printed cotton is lighter, for everyday or outdoor use. Jacquard cotton tablecloths are generally more refined, with very elaborate patterns and a texture that makes the drop off more neat. They are appreciated for setting a holiday table.
Jacquard woven cotton and polyester blend tablecloths are more designed for decoration, because this combination of materials and their weaving method allows a thickness close to the upholstery fabric.
In both cases, maintenance remains simple, and machine washing is possible at 30-40 °C, with a recommendation for washing at a 'delicate linen' program for the decorative jacquard woven fabric (because of the threads in relief). We recommend ironing all your tablecloths inside out, to prevent the heat from altering the beautiful colors of Provence. This is strongly recommended for anti stains treated tablecloths and it will reactivate the coating protection.
Coordinates & accessories
15 other products in the same category: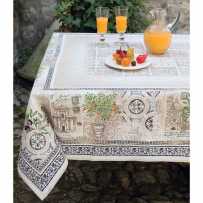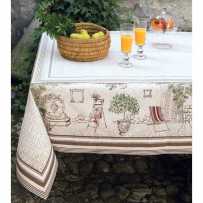 Questions
Your Question has been successfully sent our team. Thanks for question!
No customer questions for the moment.
Customers who bought this product also bought