You've just found THE perfect Christmas dinner tablecloth.
Besides, its Sylvestre pattern doesn't fool you: it evokes old greeting cards buried somewhere in your memory.
Available in 3 sizes, it's made of high quality cotton (100%) which can be coated with an anti-stain treatment if you prefer this option.
The elegant and sober design on the top and the Christmas colors will delight your guests.
Coordinates & accessories
Christmas dinner set
You'll save time in decoration with this very festive tablecloth for your Christmas dinner table. It's perfectly in the theme, no need for more! The drop-offs of the tablecloth are decorated with designs reminiscent of old Christmas cards. All the standards are there: wrapped bells, Christmas balls, pine nuts, holly, and also the nice robin, not to mention the combination of red and green.
A concentrate of symbols nicely arranged in a garland and framed with friezes for a clean finish. The table top remains quite discreet, however, a few light patterns spaced apart and an oblong garland placed in the center as a reminder but more sober. The right balance that makes the elegance of this deliciously vintage Sylvestre design.
Some Christmas table decoration ideas: the light background allows you to set white and gold porcelain plates, the ones you keep for special occasions.
Variations and accessories
Three sizes are available to suit your needs: the 3m, 150cm wide tablecloth is the largest. The other lengths are 2 meters and 2.50 meters.
The accessories that are the tea towels and the bread basket will certainly seduce you to add a final touch to your holiday decoration.
Data sheet
Collection

Sylvestre

Shape

Rectangular

Width

59 inches

Length

79 inches, 98 inches, 118 inches

Color

White

Shaping

Printed

Composition

100% cotton

Treatment

Without treatment, Coated

Quilted

No

Pattern

Placed, Framed
All our household linen is made with care in the South East of France with quality textile materials. In order to preserve all the qualities of your article, we recommend you to follow our maintenance advices. This will help you enjoy the features and properties of your house linen longer.
Some tips : to wash your laundry, we recommend Marseille soap, a natural and really effective product that the washerwomen (lavandieres) of Provence used formerly. In addition to being environmentally friendly and harmless to the skin and the environment, it cleans and removes stains perfectly without damaging fabric. You can also use white vinegar as a softener: it's natural too. Do not hesitate and follow the example of Provencal housewives, back to fundamentals: it's good for you, for your home, and for the planet!
For TEFLON treated or coated fabrics: we recommend to iron on the reverse side of the fabric to reactivate the properties of anti-stain treatment.

 Machine wash at 30° C

 Do not bleach

 No dry clean

 Do not use tumble dryer

 Low temperature ironing
Choose your tablecloth according to your table (shape and dimensions), how you use it (indoor or in the garden) and ... your preferences!
Which dimensions ?
Whatever the shape of your table, you may start by measuring length and width or diameter.
Once the dimensions known, make sure to add 15 to 35 cm (about 6 to 14 in) on each side for the fallout (30 to 70 cm in total, or 12 to 28 in).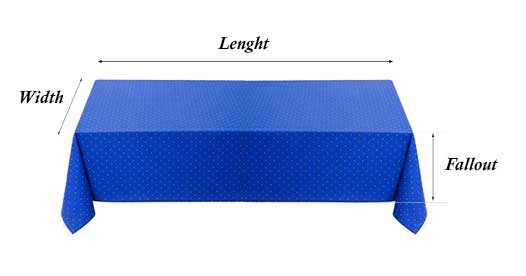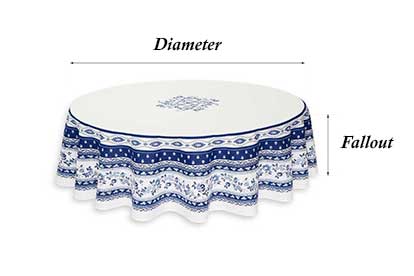 If you do not know the dimensions of the table (for a gift for example), you may count in number of guests: therefore, allow a minimum of 60 to 70 cm (23.6 to 27.6 in) between each guest and apply this simple rule:
- For a rectangular table, the length of the tablecloth should be 150 cm up to 4 persons + 50 cm each time you add 2 more guests (for 10 guests, the length of the tablecloth should be 150 + 3 x 50 = 300 cm)
- For a round table, the diameter of the tablecloth should be 150 cm up to 4 persons + 30-40 cm each time you add 2 more guests (for 8 guests, the diameter of the tablecloth should be 150 + 2 x 40 = 230 cm)
Printed cotton or jacquard woven: a matter of texture
Printed cotton tablecloths and 100% cotton jacquard woven tablecloths are mainly dedicated to the 'art de la table'. They can have an acrylic or Teflon coating to prevent stain permeation. Printed cotton is lighter, for everyday or outdoor use. Jacquard cotton tablecloths are generally more refined, with very elaborate patterns and a texture that makes the drop off more neat. They are appreciated for setting a holiday table.
Jacquard woven cotton and polyester blend tablecloths are more designed for decoration, because this combination of materials and their weaving method allows a thickness close to the upholstery fabric.
In both cases, maintenance remains simple, and machine washing is possible at 30-40 °C, with a recommendation for washing at a 'delicate linen' program for the decorative jacquard woven fabric (because of the threads in relief). We recommend ironing all your tablecloths inside out, to prevent the heat from altering the beautiful colors of Provence. This is strongly recommended for anti stains treated tablecloths and it will reactivate the coating protection.
Is coating useful?
The coating facilitates daily use and spares machine washes by allowing to wipe stains off with a sponge; untreated tablecloths offer a softer touch; Teflon-treated tablecloths offer 2 advantages ... Your choice will depend essentially on 3 criteria:
- Outdoor use: If your tablecloth is mainly used outdoor, we recommend that you choose coated cotton;
- Frequency of use: for daily use, prefer the coating to simplify maintenance. Conversely, for occasional use (party, reception, etc.), we recommend a tablecloth without coating for printed cotton or treated with Teflon for jacquard woven cotton.
- Your personal feelings: If you want to find the touch of 100% cotton, go for untreated or Teflon treated tablecloths.
Please note that our textiles with anti-stain coating use a professional treatment made in France: the EASY PRO process.

Knowledge and Expertise... Guaranteed!
Developed by a French company, Easy Pro coating procedure ensures the guarantee of a quality textile product . This treatment, tested according to international standards, responds to the technical demands of everyday use:
acrylic coating with anti-stain finish
spot cleaning with damp sponge
simple and easy maintenance
surface coating resistant to oil, wine and coffee
Textiles treated with Easy Pro are systematically tested in laboratories:
1 - Tests the superficial dampening of a fabric
Carried out according to the international standards IDT ISO 4920 and NF EN 24920, this test determines the resistance to water absortion in a fabric that is sprayed with a liquid.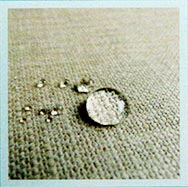 2 - Measures the impermeability of a fabric
Carried out according to the international standards DIN 61539, this test measures how waterproof a substance is when subjected to water pressure.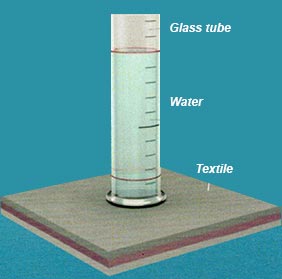 EASY PRO Care instructions:
Daily maintenance: Wash with damp sponge (avoid abrasive surfaces).
In extreme cases: Machine wash possible, iron on reverse side.





15 other products in the same category:
Questions
Your Question has been successfully sent our team. Thanks for question!
No customer questions for the moment.
Customers who bought this product also bought