This round baking dish
is made on request
by a potter from Vallauris
who perpetuates the
city's traditional pottery
.
The round shape is typically Provencal
, and the base of
the dish can be decorated
according to the sgraffite technique, like a ceramic engraving.
The pottery is stamped
.
Cook healthy and prepare delicious gratins
...
Read more >>
Customize your crockery!
by indicating in your order the name or the date to be affixed to the back of the items.
For a personal quote, please Contact Us
Coordinates & accessories
Healthy cooking
Since time immemorial, a terracotta oven dish has been used to cook food and remains the best solution for good and healthy cuisine. The material is ideal for baking meat, poultry, fish or vegetables. The water that is contained in the ingredients is returned by the earth to keep them moist, they do not dry out.
On the contrary, the flavors mix makes a sauce which gives more taste. Reconnect with the true taste of food !
A handmade production
This is a round baking dish that will be made for you by one of the last potters of Vallauris.
It is available in 8.6 and 10 inches diameter. From the clay, the craftsman models the pottery to give it its final shape, and sgraffite the base eventually. It's then baked for the first time after drying. It's then varnished in dark sienna color as yesteryear, then finish is fixed by a second baking. It's a long process, subject to variations in ambient humidity that man doesn't control, because it depends on the weather.
The art of pottery is often « the school of patience », like most craft jobs.
Provencal recipes
Why not try typical Provençal recipes in this oven baking dish?
For example, small stuffed vegetables, zucchini gratin and more… If you like cooking in earthenware cooking pots, don't miss the daubiere, the tian or the Provencal skillet. They are available here below.
You will feast your taste buds!
Data sheet
Shape

Round

Height

2.8 in, 3.2 in

Diameter

8.7 in, 10 in

Weight

3.5 lb, 4.3 lb
Manual
1 - Before first use (culinary terracotta only)
Before using your culinary pottery for the first time, we recommend to soak your pottery and its cover overnight in cold water and then to air dry thoroughly.
Then rub it with a clove of garlic and let stand for at least 5 hours.
Before use, clean it by hand, preferably with liquid Marseille soap or a diluted commercial detergent. Once dry, your terracotta pottery is ready to use.
2 - To avoid thermal shocks
Glazed terracotta and earthenware, like any ceramic, are materials sensitive to thermal shocks and can be damaged irreparably. Here are some tips to avoid breakage.
1st tip: Not empty!
Never heat or reheat a pottery utensil when it is empty. We recommend placing preparations or food inside, or at least a glass of water, before placing your dishes in the oven or on a cooking source.
2nd tip: Cold start
Whatever the heat source, you should always start your cooking in a cold oven, or on a small fire with a heat diffuser. Covered pottery retains heat and loses very little energy. You can heat up slowly. The earth gently cooks the stewed preparations, giving them back their water. These remain soft and tasty. There is no point in raising the temperature sharply. If you adhere to this principle, you can simmer unattended for a long time. Finally, do not use your pottery for quick cooking (roasting meat, for example). It is not appropriate. Prefer utensils made of iron, cast iron, etc, instead.
3rd tip: Do not put on a cold surface after cooking
Provide a tea towel, a cork or wooden trivet, and avoid placing it directly on a work surface. The temperature difference between very hot terracotta and a cold surface could create a shock causing cracking. Likewise, never pass from the oven to the refrigerator or vice versa. It would be fatal for your ceramic. Also, do not leave your terracotta or earthenware dish next to a cooking point. The proximity of a very hot temperature can crack the ceramic.
3 - How to clean your pottery
Even if you are using the dishwasher, you must handle your dishes avoiding any shocks. For hand cleaning, avoid metal pads and abrasive sponges. It is better to use natural detergents, such as Marseille soap products. Always rinse thoroughly, especially for utensils that have an unglazed part. You must allow your ceramic to dry completely before storing it. Place the lid separately, or staggered to prevent airtight closing while your dishes are resting. This will help prevent mold, as the terracotta retains moisture.
Thanks to these recommendations, you will rediscover the true flavor of your recipe in this natural earth, and the pleasure of sharing it at dinner.
Quality Service
REMEMBER PROVENCE
15 other products in the same category: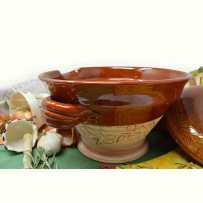 Questions
Your Question has been successfully sent our team. Thanks for question!
No customer questions for the moment.
Customers who bought this product also bought